<< Deprecated: mysql_escape_string(): This function is deprecated; use mysql_real_escape_string() instead. in /customers/0/6/7/thau-knudsen.dk/httpd.www/weblog/pmachine/p-maskine/db/db.mysql.php on line 233 Deprecated: mysql_escape_string(): This function is deprecated; use mysql_real_escape_string() instead. in /customers/0/6/7/thau-knudsen.dk/httpd.www/weblog/pmachine/p-maskine/db/db.mysql.php on line 233
Do a barrel roll tested on MacOS X.7.5 Lion
| Deprecated: mysql_escape_string(): This function is deprecated; use mysql_real_escape_string() instead. in /customers/0/6/7/thau-knudsen.dk/httpd.www/weblog/pmachine/p-maskine/db/db.mysql.php on line 233 Deprecated: mysql_escape_string(): This function is deprecated; use mysql_real_escape_string() instead. in /customers/0/6/7/thau-knudsen.dk/httpd.www/weblog/pmachine/p-maskine/db/db.mysql.php on line 233 Deprecated: mysql_escape_string(): This function is deprecated; use mysql_real_escape_string() instead. in /customers/0/6/7/thau-knudsen.dk/httpd.www/weblog/pmachine/p-maskine/db/db.mysql.php on line 233
WEBLOG
| Deprecated: mysql_escape_string(): This function is deprecated; use mysql_real_escape_string() instead. in /customers/0/6/7/thau-knudsen.dk/httpd.www/weblog/pmachine/p-maskine/db/db.mysql.php on line 233 Deprecated: mysql_escape_string(): This function is deprecated; use mysql_real_escape_string() instead. in /customers/0/6/7/thau-knudsen.dk/httpd.www/weblog/pmachine/p-maskine/db/db.mysql.php on line 233 >>
Deprecated: mysql_escape_string(): This function is deprecated; use mysql_real_escape_string() instead. in /customers/0/6/7/thau-knudsen.dk/httpd.www/weblog/pmachine/p-maskine/db/db.mysql.php on line 233 Deprecated: mysql_escape_string(): This function is deprecated; use mysql_real_escape_string() instead. in /customers/0/6/7/thau-knudsen.dk/httpd.www/weblog/pmachine/p-maskine/db/db.mysql.php on line 233 Deprecated: mysql_escape_string(): This function is deprecated; use mysql_real_escape_string() instead. in /customers/0/6/7/thau-knudsen.dk/httpd.www/weblog/pmachine/p-maskine/db/db.mysql.php on line 233 Deprecated: mysql_escape_string(): This function is deprecated; use mysql_real_escape_string() instead. in /customers/0/6/7/thau-knudsen.dk/httpd.www/weblog/pmachine/p-maskine/db/db.mysql.php on line 233 Deprecated: mysql_escape_string(): This function is deprecated; use mysql_real_escape_string() instead. in /customers/0/6/7/thau-knudsen.dk/httpd.www/weblog/pmachine/p-maskine/db/db.mysql.php on line 233 Deprecated: mysql_escape_string(): This function is deprecated; use mysql_real_escape_string() instead. in /customers/0/6/7/thau-knudsen.dk/httpd.www/weblog/pmachine/p-maskine/db/db.mysql.php on line 233 Deprecated: mysql_escape_string(): This function is deprecated; use mysql_real_escape_string() instead. in /customers/0/6/7/thau-knudsen.dk/httpd.www/weblog/pmachine/p-maskine/db/db.mysql.php on line 233 Deprecated: mysql_escape_string(): This function is deprecated; use mysql_real_escape_string() instead. in /customers/0/6/7/thau-knudsen.dk/httpd.www/weblog/pmachine/p-maskine/db/db.mysql.php on line 233 Deprecated: mysql_escape_string(): This function is deprecated; use mysql_real_escape_string() instead. in /customers/0/6/7/thau-knudsen.dk/httpd.www/weblog/pmachine/p-maskine/db/db.mysql.php on line 233
2013-01-16 | 10:42 am
MacBook Pro Mid-2012


Pupils and customers raise demands to my hardware, so I upgraded my computer to a MacBook Pro. Here are its data.
THE REST...

Specs

Computer
At Present
Upon acquisition
Factory configuration
Model
MacBook Pro (13 inch, Mid 2012). Model ID: MacBookPro9,2, Order number MD102LL/A (2.9 GHz)
Aquisition
October 2012
Introduced: June 2012
Terminated: —
Case
Precision aluminum unibody
Weight and dimensions
4.5 lbs., 0.95" H x 12.78" W x 8.94" D
Processor
Intel Core i5 or Core i7 (3210M, 3520M) (Ivy Bridge)
Architechture
64 bit
Number of cores
2
Cache
4 MB L3
Random Access Memory
2 x 4GB 204-pin PC3-12800 (1600 MHz) DDR3 SO-DIMM manufacturer 0x80AD
System bus
Intel Direct Media Interface (DMI) at 5 GT/s
SD Card Reader
2.5 GT/s, manufacturer ID 0x14e4
Total partitions
1
Optical drive
ATAPI connected, buffer 2048 KBUltra ATA/100 Running at UATA/66
Hard drive
750,16 GB (750.156.374.016 byte) Model: APPLE HDD HTS547575A9E384 Media, Rotational, Journaled HFS+
Hard drive interface
6Gbps (3Gbps negotiated) Serial ATA (SATA) Intel 7 Series chipset
Graphics
Intel HD Graphics 4000 with 512 MB VRAM
Thunderbolt
Apple Inc., for MacBook Pro, 2 - up to 10 Gbps
Keyboard
Full size (79 keys including 12 functions keys, 4 arrow, one eject key) backlit embedded keypad. Language: DK Danish
Trackpad
Solid-state trackpad supports tap, double tap, drag and scrolling
USB
2 ports — up to 5 Gbps
Ethernet
10/100/1000Base-T (RJ-45)
Bluetooth
Bluetooth 4.0
Airport
Built-in AirPort Extreme wireless networking (conforming with the 802.11g, 802.11b, and 802.11n standards)
Peripherals
Keyboard
Apple Bluetooth Keyboard
Mouse
(rarely used)
Monitor
Microphone
Built-in
Scanner
Hewlett Packard Photosmart 3310 All-in-One
Printer

Hewlett Packard Photosmart 3310 All-in-One. (ink printer)
Brother HL-2030 (laser printer)

Router
Airport Extreme
External disk

1.5TB SATA HDD for TimeMachine connected to AirPort Extreme
128 GB ATA HDD as file server

Modem
Motorola SurfBoard SB4100 Cable Modem (10/100BaseT Ethernet and up to 32 users)
Software
Operating systems
MacOS X.8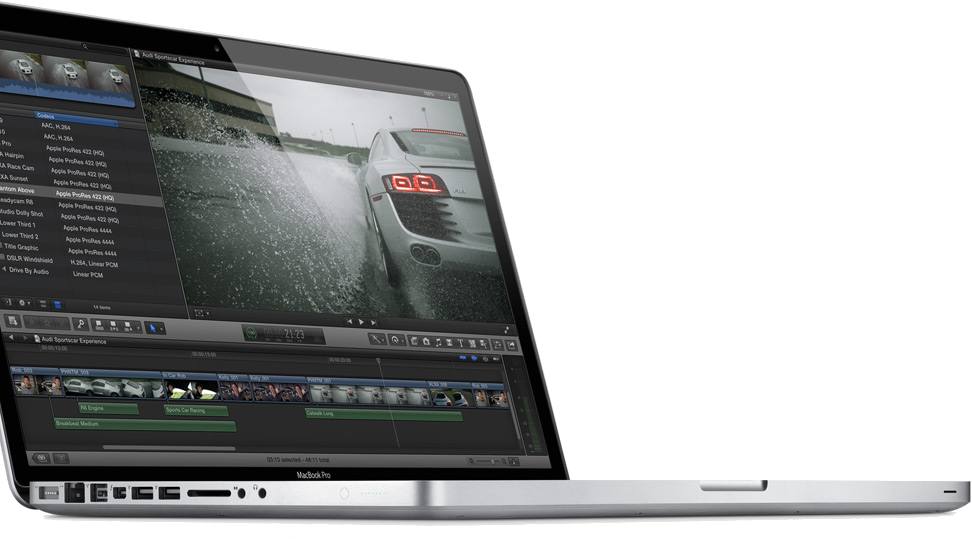 As of the day of publishing this report, this is the best computer of the home, and still represents the state-of-the-art when it comes to laptop computers of its size (13 inches screen) and drive type (rotational, not flash memory). I deliberately chose the physical dimensions for the flexibility at work (it fits right into my rugsack) and the hard disk type. A few months before acquisition, it was announced that the hard disk manufacturers had broken the 750 GB limit for 2.5" rotational disks (the ones used for most laptop computers) and now shipping 1TB. Upgrading the storage capacity of a computer with flash harddisks is a quite costy affair.
Comments
Deprecated: mysql_escape_string(): This function is deprecated; use mysql_real_escape_string() instead. in /customers/0/6/7/thau-knudsen.dk/httpd.www/weblog/pmachine/p-maskine/db/db.mysql.php on line 233 Deprecated: mysql_escape_string(): This function is deprecated; use mysql_real_escape_string() instead. in /customers/0/6/7/thau-knudsen.dk/httpd.www/weblog/pmachine/p-maskine/db/db.mysql.php on line 233 Deprecated: mysql_escape_string(): This function is deprecated; use mysql_real_escape_string() instead. in /customers/0/6/7/thau-knudsen.dk/httpd.www/weblog/pmachine/p-maskine/db/db.mysql.php on line 233 Deprecated: mysql_escape_string(): This function is deprecated; use mysql_real_escape_string() instead. in /customers/0/6/7/thau-knudsen.dk/httpd.www/weblog/pmachine/p-maskine/db/db.mysql.php on line 233 Deprecated: mysql_escape_string(): This function is deprecated; use mysql_real_escape_string() instead. in /customers/0/6/7/thau-knudsen.dk/httpd.www/weblog/pmachine/p-maskine/db/db.mysql.php on line 233 Deprecated: mysql_escape_string(): This function is deprecated; use mysql_real_escape_string() instead. in /customers/0/6/7/thau-knudsen.dk/httpd.www/weblog/pmachine/p-maskine/db/db.mysql.php on line 233 Deprecated: mysql_escape_string(): This function is deprecated; use mysql_real_escape_string() instead. in /customers/0/6/7/thau-knudsen.dk/httpd.www/weblog/pmachine/p-maskine/db/db.mysql.php on line 233 Deprecated: mysql_escape_string(): This function is deprecated; use mysql_real_escape_string() instead. in /customers/0/6/7/thau-knudsen.dk/httpd.www/weblog/pmachine/p-maskine/db/db.mysql.php on line 233 Deprecated: mysql_escape_string(): This function is deprecated; use mysql_real_escape_string() instead. in /customers/0/6/7/thau-knudsen.dk/httpd.www/weblog/pmachine/p-maskine/db/db.mysql.php on line 233 Deprecated: mysql_escape_string(): This function is deprecated; use mysql_real_escape_string() instead. in /customers/0/6/7/thau-knudsen.dk/httpd.www/weblog/pmachine/p-maskine/db/db.mysql.php on line 233 Deprecated: mysql_escape_string(): This function is deprecated; use mysql_real_escape_string() instead. in /customers/0/6/7/thau-knudsen.dk/httpd.www/weblog/pmachine/p-maskine/db/db.mysql.php on line 233 Deprecated: mysql_escape_string(): This function is deprecated; use mysql_real_escape_string() instead. in /customers/0/6/7/thau-knudsen.dk/httpd.www/weblog/pmachine/p-maskine/db/db.mysql.php on line 233 Deprecated: mysql_escape_string(): This function is deprecated; use mysql_real_escape_string() instead. in /customers/0/6/7/thau-knudsen.dk/httpd.www/weblog/pmachine/p-maskine/db/db.mysql.php on line 233
Deprecated: mysql_escape_string(): This function is deprecated; use mysql_real_escape_string() instead. in /customers/0/6/7/thau-knudsen.dk/httpd.www/weblog/pmachine/p-maskine/db/db.mysql.php on line 233 Deprecated: mysql_escape_string(): This function is deprecated; use mysql_real_escape_string() instead. in /customers/0/6/7/thau-knudsen.dk/httpd.www/weblog/pmachine/p-maskine/db/db.mysql.php on line 233 Deprecated: mysql_escape_string(): This function is deprecated; use mysql_real_escape_string() instead. in /customers/0/6/7/thau-knudsen.dk/httpd.www/weblog/pmachine/p-maskine/db/db.mysql.php on line 233 Deprecated: mysql_escape_string(): This function is deprecated; use mysql_real_escape_string() instead. in /customers/0/6/7/thau-knudsen.dk/httpd.www/weblog/pmachine/p-maskine/db/db.mysql.php on line 233 Deprecated: mysql_escape_string(): This function is deprecated; use mysql_real_escape_string() instead. in /customers/0/6/7/thau-knudsen.dk/httpd.www/weblog/pmachine/p-maskine/db/db.mysql.php on line 233